---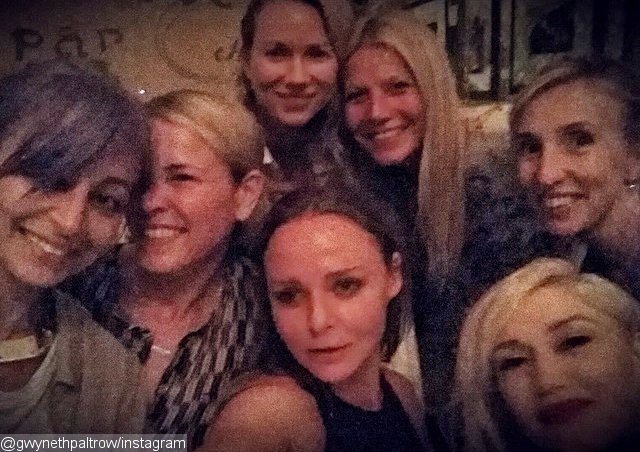 Gwyneth Paltrow has shared a selfie featuring many celebrity friends which apparently was taken during a dinner in Los Angeles on April 17. In a photo uploaded to her
Instagram
, the "Shakespeare in Love" star can be seen posing with Nicole Richie, Gwen Stefani, Stella McCartney, Naomi Watts, Sam Taylor-Wood and Chelsea Handler.
The stars were celebrating McCartney's birthday at a vegan restaurant Crossroads on Thursday. The designer also shared a photo from the dinner in which the stars struck different poses. "Gals night out! Gwen, Gwyneth, Nicole, Chelsea, Naomi, Sam and I x Stella," she wrote.
Paltrow went to the event wearing a flowery top by Stella McCartney. Purple-haired Richie, meanwhile, was seen sporting an elegant-looking ensemble with creams, pinks and beige tones. The No Doubt singer looked chic in an all-black outfit, bright red lipstick and blue shoes.
Prior to sharing the star-studded photo, Paltrow uploaded a sweet photo of her and her two children with a beautiful ocean view as the background. "Luckiest mom ever," she tagged the snap.
Paltrow and her husband Chris Martin recently announced their separation after 10 years of marriage.
Calling
the split "conscious uncoupling," the couple wrote, "We have come to the conclusion that while we love each other very much we will remain separate."