A 24-year-old British woman, Claire Leeson, revealed that she shelled out more than $30,000 on plastic surgery to imitate Kim's face and body.
---
Kim Kardashian
look-alike named Claire Leeson opened up about the amount of money she had spent to achieve her idol's look. In an interview with

ITV's "This Morning"

, the Essex, England resident revealed that she shelled out £20,000 or around $30,000 on plastic surgery, teeth whitening, boob job, and a whole new wardrobe.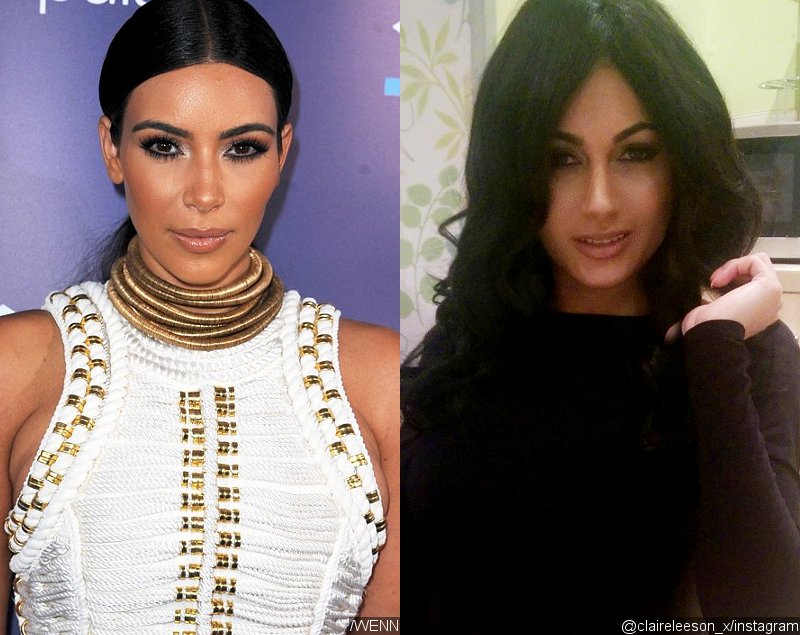 Claire revealed that she began to admire Kim when she watched "

Keeping Up with the Kardashians

" for the first time in 2009. She recalled, "I was told every day that I was the 'ugliest thing alive' and I should kill myself. When I left school, friends would tell me that I had a resemblance to Kim. I watched ['Keeping Up'] and realized I had the same amount of siblings and that we have the same kind of arguments and things going on. I thought she was so beautiful and I really wanted to be like her."

Claire spent more than $8,500 for a boob job, several thousand dollars to whiten her teeth, and more than $1,700 in spray tans to change her skin color like Kim's. Claire also spent some money to match her outfit, including designer clothes and shoes, to achieve Kim's total look.

Claire shared that she wore underwear with silicone padding to achieve Kim's ample curves. She added that she wanted to get butt implants in the future "because my bum is never going to be as big as Kim's is."

After spending a big amount of money on the total makeover, Claire has more than $10,000 in debt now. However, she did not want to stop, saying, "It may not be right, but when I do it, I'm unstoppable and no one can touch me."

Meanwhile, there is another person who spent more money than Claire to become similar to

Justin Bieber

. Toby Sheldon, a 33-year-old songwriter, revealed that he had spent more than $100,000 to look like Justin. Toby, who appeared on E! show "Botched", said, "I want to look like Justin Bieber used to look, when he was real young."

He continued, "I just always bring a picture of him from, like, two years ago, to my surgeons and say, 'This is what I want to model myself after.' " He may have a similar look to Justin, but his voice is totally different from the "Beauty and a Beat" crooner.