The rapper collects his fifth No. 1

album

on

the chart

after his latest album sells 179,000 copies, according to Nielsen SoundScan.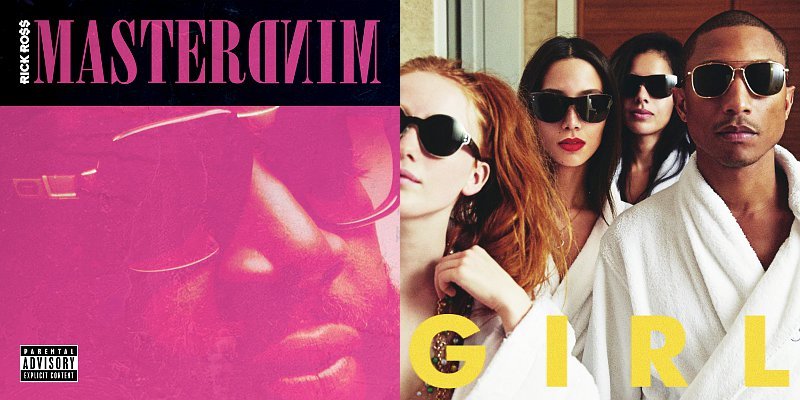 Rick Ross' "Mastermind" has made its way out atop Billboard 200. The Maybach Music Group boss scores his fifth No. 1 album on the chart after the record, which was delayed several times before finally being released in early March, sells 179,000 copies.
Despite directly sitting at No. 1, "Mastermind" can't beat the
first week
sales of its predecessor "God Forgives, I Don't" which opened atop the chart with 218,000 back in 2012. The previous album is so far the rapper's best sales week ever.
However, Ross' newest LP has sold enough to stop Pharrell Williams' "G I R L" from taking the top spot on the chart. The super producer's second solo project, which is powered by Oscar-nominated hit single "Happy", debuts at No. 2 with 112,000.
For the first time in the past 10 weeks, the soundtrack album of "Frozen (2013)" is kicked out of Billboard 200's top 2. It slips to No. 3 with 100,000. The record is supported by "
Let It Go
" that won the Best Original Song award at the Oscars.
Rounding out the top 5 are Lea Michele's debut LP "Louder" which is placed fourth with 60,000 and Eli Young Band's "10,000 Towns" which has sold 36,000. At No. 6, Beck's "Morning Phase" descends from No. 3 with 33,000 while Lorde's "Pure Heroine" manages
to return
to the top 10, jumping from No. 11 to No. 7 with 31,000.
Last week's first placer SchoolBoy Q's "Oxymoron" plunges to No. 8 with 30,000. Eric Church's "The Outsiders" falls from No. 7 to No. 9 with a little more than 30,000. Running closely behing the country crooners' latest set is Ashanti's "BraveHeart". The R&B singer's first album in six years enters the chart at No. 10 with 28,000.
"Mastermind" - Rick Ross (179,000)
"G I R L" - Pharrell Williams (112,000)
"Frozen (2013)" Soundtrack - Various Artists (10,000)
"Louder" - Lea Michele (60,000)
"10,000 Towns" - Eli Young Band (36,000)
"Morning Phase" - Beck (33,000)
"Pure Heroine" - Lorde (31,000)
"Oxymoron" - SchoolBoy Q (30,000)
"The Outsiders" - Eric Church (30,000)
"BraveHeart" - Ashanti (28,000)