The talk show host poses with Bill, Hillary and Chelsea Clinton at a student conference for the Clinton Global Initiative University and mentions DeGeneres in the

Twitter post

.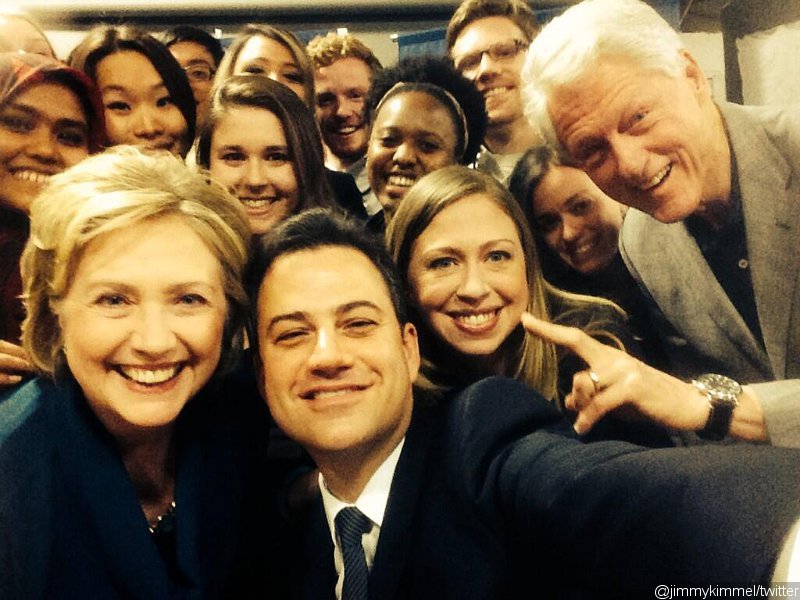 Jimmy Kimmel apparently attempted to break Twitter record of most retweeted post which is held by Ellen DeGeneres with her star-studded selfie at the Oscars. On Saturday, March 22, the chat show host was joined by Bill, Hillary and Chelsea Clinton as he posed for a selfie at a student conference for the Clinton Global Initiative University at Arizona State University in Tempe, Ariz.
".@TheEllenShow- No [Bradley Cooper] but 3 Clintons & a Kimmel @BillClinton @HillaryClinton @ChelseaClinton #selfie," he captioned the photo. The former president can be seen at the right side of the frame, while his wife and daughter sandwiched Kimmel.
During the event, Hillary Clinton hinted at campaigning for presidency. As reported by The Hollywood Reporter, an audience member asked if the former Secretary of State would run
for president
in 2016. "Ms. Clinton, if you don't represent women in politics in America as future president, then who will?" she said. Kimmel then commented, "That's a very good question. It looks like you have support here. And also to add to that, when you do run for president, will you use the old Clinton campaign
lawn signs
?"
She replied, "I am very much concerned about the direction of our country and it's not just who runs for office but what they do when they get there and how we work together and particularly empower young people. We can tackle some of these hard decisions we have just been talking about so..." Kimmel cut her mid-sentence, saying the audience "wants an answer."
She continued with a laugh, "Ok I'm getting to it. Let me say this, give me your name and number." When the audience member showed her support to her, Clinton replied, "I like your attitude, your confidence. I'm obviously thinking about all kinds of decisions."
So who do you think will win as the most popular selfie re-tweeted jimmy kimmel or Ellen DeGeneres
<a target='new' href="http://click.linksynergy.com/fs-bin/click?id=gQC7PXriU90&offerid=311675.10000011&subid=0&type=4"><IMG border="0" alt="LinkShare Referral Prg" src="http://ad.linksynergy.com/fs-bin/show?id=gQC7PXriU90&bids=311675.10000011&subid=0&type=4&gridnum=1"></a>