The 'Super Bass' rapper takes to Instagram to share several photos which show her in various poses while taking shower.
---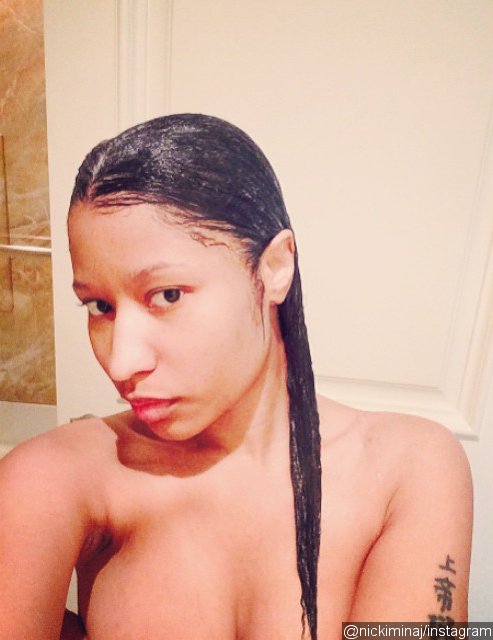 Nicki Minaj has shared several photos of her while she was taking shower. The "Super Bass" rapper took to Instagram on Wednesday, March 5 to share the sexy snaps to her fans. The performer can be seen being topless and showing off her assets in some photos. Other snaps were taken with her back facing the camera.
Minaj goes make-up free in the photos and her long hair is wet. "Baby you don't need make up NATURAL BEAUTY you so gorgeous Nic," a fan commented. Another fan wrote, "Please consider playboy."
In other news, the "
Pound the Alarm
" rapper recently shared tips of getting healthy skin. In an interview with Look magazine, Minaj said that removing make-up thoroughly and drinking
Aloe Vera
water contributed to perfect skin. "I definitely wouldn't say [my skin is] flawless! If I fall asleep with my make-up on, I'll definitely have a breakout. And I've been drinking Aloe Vera water. It doesn't
taste
nice, but it works," she shared.
She shared another
beauty tip
, saying, "I always make sure I have perfect my eyeliner before I apply lashes. I have really small eyes so a liquid liner helps open them up and disguise the lashline."
In the spread, Minaj also said of her perfume, Minajesty, "I've never smelled anything like it! It's feminine with fresh florals and peach, but then there are vanilla and musk notes that give it a bit of mystery and darkness."