The '

Miss Congeniality

' was inspired to write the comedy after watching DeGeneres 'learning how to walk in a dress and heels' ahead of her Emmy hosting gig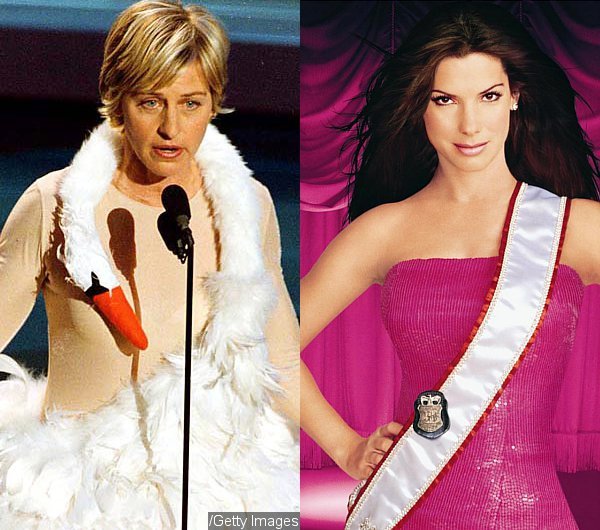 Turns out Sandra Bullock's tough law officer-turned-elegant
beauty pageant
character in "Miss Congeniality" was based on Ellen DeGeneres. She revealed in an interview with Parade magazine that the movie was inspired by her during the training days leading up to her Emmy hosting gig.
"Miss Congeniality was written based on me," she said. "When I was getting ready to cohost the Emmys, the writer saw me [on TV] learning how to walk in a dress and heels. My stylist at the time - a man - was teaching me, and it was ­hilarious. The Miss Congeniality writer saw it and thought it was brilliant."
The comedienne spilled that she got a part in 1999 comedy "EdTV" after beating out tough competitor Jennifer Aniston. "Jen Aniston is my friend and she recently ­reminded me that I beat her out of that. I got the part and Jen Aniston didn't!" she said, before jokingly adding, "That'll probably be the only time that happens."
DeGeneres is now preparing for the Oscars this weekend, March 2. She is set to host the Academy Awards for the second time. Jennifer Lawrence, Anne Hathaway, Bradley Cooper, and Brad Pitt are some of the presenters, while Pharrell Williams and U2 are the
performers
.