The 'Black Swan' actress talks about her fiance and giving

birth

to her first child in a new magazine

interview

, saying that Kutcher will be 'staying above the action.'
---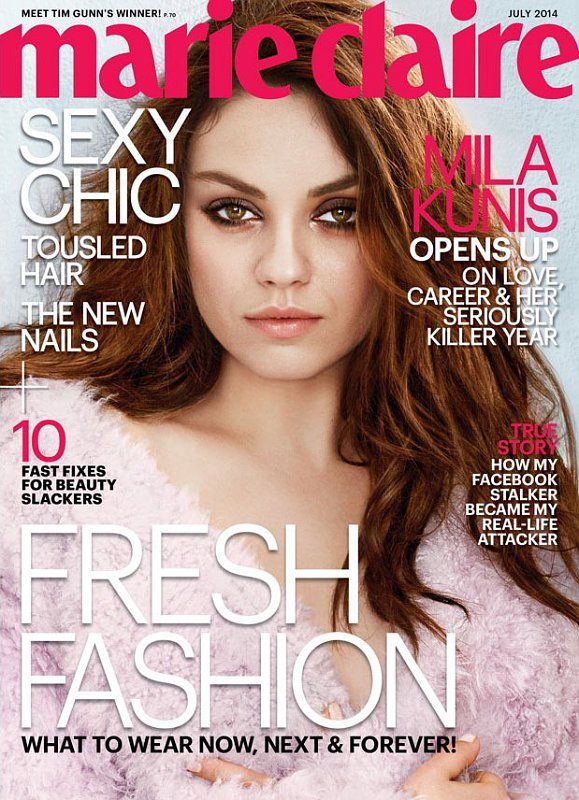 Mila Kunis opens up about her pregnancy and fiance Ashton Kutcher in an interview published in July edition of Marie Claire, hitting the stands on June 24. The expecting mother, who
sports a
fluffy top on the front page, shares the story of how her friendship with the "Two and a Half Men" actor turned into romance.
"One day, it just changed," the "Black Swan" actress admits. "All of a sudden, it wasn't the same. And I was really proud of myself for acknowledging that. The best day of my life so far was the
proposal
. I cried. I was a mess. Not to discredit any relationships in my past, but this relationship is different."
Kunis then mentions about the perks of being pregnant, saying that her breasts now have "tripled in size. I was a 34A; now I'm a 36C." She adds, "Without being an a**hole, I have to say, I love being pregnant."
The 30-year-old actress also dishes on her plan when giving birth, saying that she doesn't want Kutcher to see her lady parts during the delivery. "Two people are allowed in my delivery room. My doctor and my significant other. And he is staying above the action," she says.
"He'll be head to head. Not head to vag. Unless he wants to risk his life and see. But I wouldn't if I were him. I highly doubt he wants to see that being ripped apart and shredded. Because it will be shredded. It's just a matter of how badly," Kunis explains.
Chatting with the magazine, Kunis additionally shares her hope on her future children. "I just don't want my kids to be a**holes. I feel like so many kids nowadays are. Both of us just want to have well-behaved, honest, nice children who people meet and say, 'That's a good kid,' " she says.