The Mother Monster shows off her new look as she steps out in New York City with her entourage, rocking curly mane and thick eyebrows.
---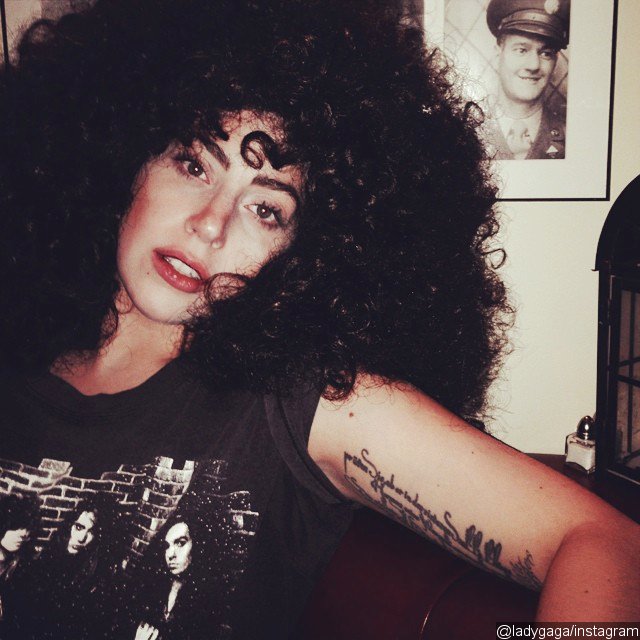 Lady GaGa has debuted a new look. On Thursday, June 5, the Mother Monster stepped out in New York City sporting wild curly hairdo. The "Applause" singer looked almost unrecognizable with her wild mane. Wearing a leopard printed piece by Dolce & Gabbana, she was accompanied by some staffers.
She later uploaded a photo from the outing. "Dolce and Gabbana archive as previously worn and owned by @therealdaphne [Daphne Guinness]," she captioned
the snap
. She then added a similar photo with a caption which read, "Missed my New York babies, best babies there are."
The next day, she rocked an outfit with 80's vibe during another outing. GaGa wore a sequined piece which falls under her bottom with no
pants and
boots. Applying
red lipstick
, GaGa made her way out of a building as she greeted fans.
GaGa introduced her new look to fans on Instagram on Thursday. She wrote on Twitter, "I am my new hair." It is unknown whether GaGa's new hairdo is a wig or real.
The 27-year-old singer has been sharing photos from her daily activities on the photo-sharing site. A few days ago, she uploaded snaps of her having fun
on the beach
with her
French Bulldog
, Asia. "They say BatPigs can't swim but my little girl can! Ears out of the water and everything! She loves it! #BatShark," the "Born This Way" singer gushed.