Leno pays a visit to 'The Arsenio Hall Show' to reveal that the show has been officially picked up for season 2, jokingly saying that he's going to host the show in the second season.
---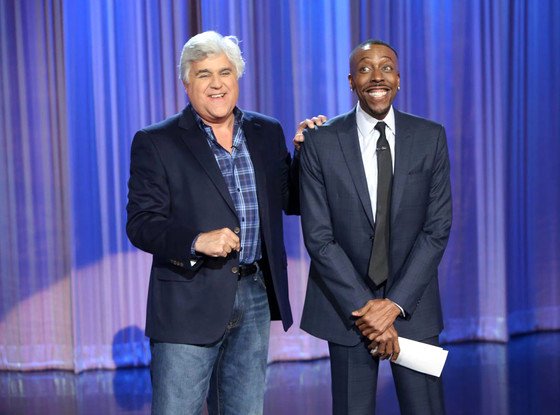 Jay Leno appeared on a late-night show more than two weeks after he bid
farewell
to "
The Tonight Show
". On Wednesday, February 26, he stopped by "The Arsenio Hall Show" to surprise Arsenio Hall with announcement of the show's renewal.
Leno sneaked up from behind Hall during his monologue and revealed that the show was officially picked up for a second season. "How come I don't get my news first?!" Hall protested. Leno replied, "He's more annoyed that I knew before he did!"
Hall then invited Leno to do a stand-up comedy on his show, and Leno jokingly said, "
Actually
, in the second season, I'm going to be hosting. They didn't tell you that part!" Hall responded by faking a faint.
In a statement to announce the show's renewal, Joe DiSalvo, president of sales at CBS Television Distribution, said, "We are thrilled that Arsenio will be returning for a second season. We knew Arsenio had a built-in fan base, but he's also reaching a new generation. This season, Arsenio has been the youngest late-night talk show on broadcast television and has given our station partners a real alternative for their late-night lineups."
Hall commented on the good news, "Since 9/9/13, I've been waking up without an alarm clock. Producing and hosting my late-night talk show brings me great joy. I'm back where I belong! Thanks to my partners at CBS Television Distribution and Tribune."