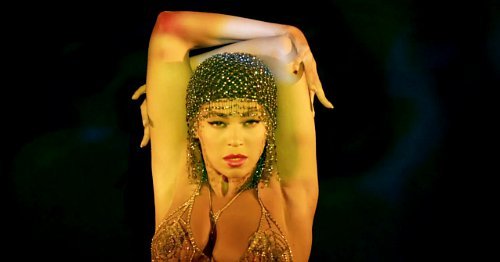 ---
Beyonce Knowles has officially released the music video of "Partition" on Vevo. The clip is taken from the diva's visual album, "Beyonce", which was dropped on iTunes without prior notice back in December.
The nearly-four-minute visuals shows Beyonce flaunting her curves in tiny outfits and doing some raunchy moves to seduce on-screen and off-screen love interest Jay-Z. The singer dances on top of a piano and on a pole as her husband watches while smoking a cigar.
Directed by Jake Nava, the sexy video of "Partition" was inspired by Bey's visit to a cabaret in France on the day she got engaged to Jay-Z. "I just thought it was the ultimate sexy show I've ever seen, and I was like, 'I wish I was up there. I wish I could perform that for my man.' So that's what I did for the video," she said.
"It takes me back to when me and my husband first meet and he's trying to scoop me and he thinks I'm the hottest thing in the world," she added. "I kinda had this whole fantasy of being in the car and this whole movie played in my head."
Marking Bey's fifth studio album, "Beyonce" debuted at No. 1 on Billboard 200 and stayed on the top for three non-consecutive weeks. The record, consisting of 14 new tracks and 17 videos, includes another steamy track and music video called "Drunk in Love" which is still doing great on charts. Featuring guest appearance from Jay-Z, the song was performed by the couple at the Grammys in late January.